Providing shade from the sun and shelter from the rain, grill gazebos make it possible to grill in nearly any conditions. If you love to cook outdoors but you find yourself limited by the weather, this type of gazebo could be a game-changer.
They aren't just great for covering grills, either. You can use them for any outdoor cooking appliances, from pizza ovens to camping stoves. However you like to cook outside, a grill gazebo has you covered.
Shop this article: Master Canopy Grill Gazebo, Cooshade Double-Tiered Grill Gazebo and CoastShade Grill Gazebo
What are grill gazebos?
Grill gazebos are smaller versions of standard gazebos. They're appropriately sized for a large grill and a couple of cooks. Most have extra features that make prepping, grilling and serving food easier, such as shelves and spots to hang utensils.
What to look for in a grill gazebo
Size
These gazebos are big enough to accommodate even extra-large grills without taking up more space than necessary. The most common size is 8 feet by 5 feet, which fits large grills with some space on each side to move around or for a trestle table to hold food and other essentials. Plus, it's deep enough to cook comfortably without being exposed to the elements. However, you can also find slightly larger versions if you feel like you need extra room.
Roof vent
It can get hot grilling under a gazebo, so it's important to have a roof vent to let fresh air in and hot air out as it rises to the roof. However, these vents should be designed so they let air out without letting water in, as you still want protection from the rain.
Open sides
Gazebos for grilling under must have at least three open sides. Not only does this keep them from getting too hot inside, but it's also important to grill in a ventilated area for safety, particularly if you use a charcoal grill. While burning and smoldering, charcoal gives off noxious gases, of which carbon monoxide is the most notable. Carbon monoxide poisoning can be fatal, which is why grill gazebos need open sides — and why you should never grill indoors.
Shelves
Many gazebos for grilling have built-in shelves or worktops. These give you space to prepare food or to keep ingredients that are waiting to go on the grill. You can even use the shelf on one side for food waiting to be grilled and the one on the other side for food that's already been cooked. Not all are equally deep or sturdy, so if good worktops are important to you, take a close look at them before buying.
Utensil hooks
Built-in hooks for utensils let you keep all your grill tools within easy reach. Rather than scrabbling around to work out where you put your tongs, you'll know exactly where to find them. It also helps keep you from accidentally putting tools down on a dirty or contaminated surface.
Awning
Some grill gazebos have an awning on the front or side. This provides extra shade, which can be handy when the sun is coming from an awkward angle or when people want to gather around to chat with the cook.
Best grill gazebos under $180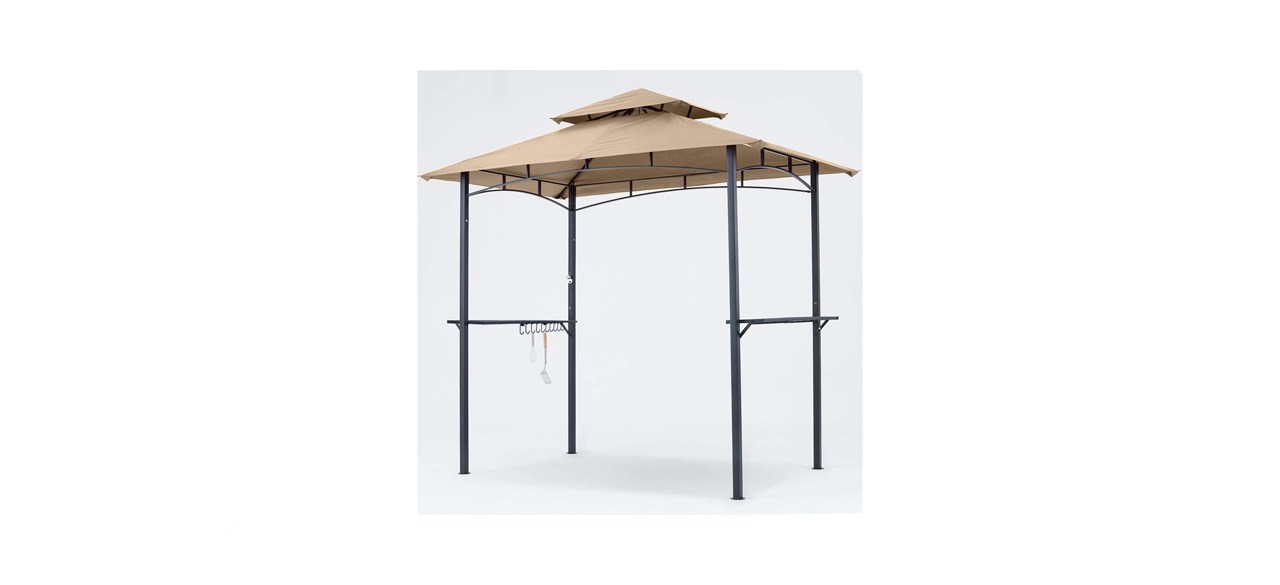 Measuring 8 feet by 5 feet, this average-size gazebo is spacious without being too large. It has shelves on each side, utensil hooks, a built-in bottle opener and LED lights for grilling after dark, making it a highly practical space for preparing food.
Sold by Amazon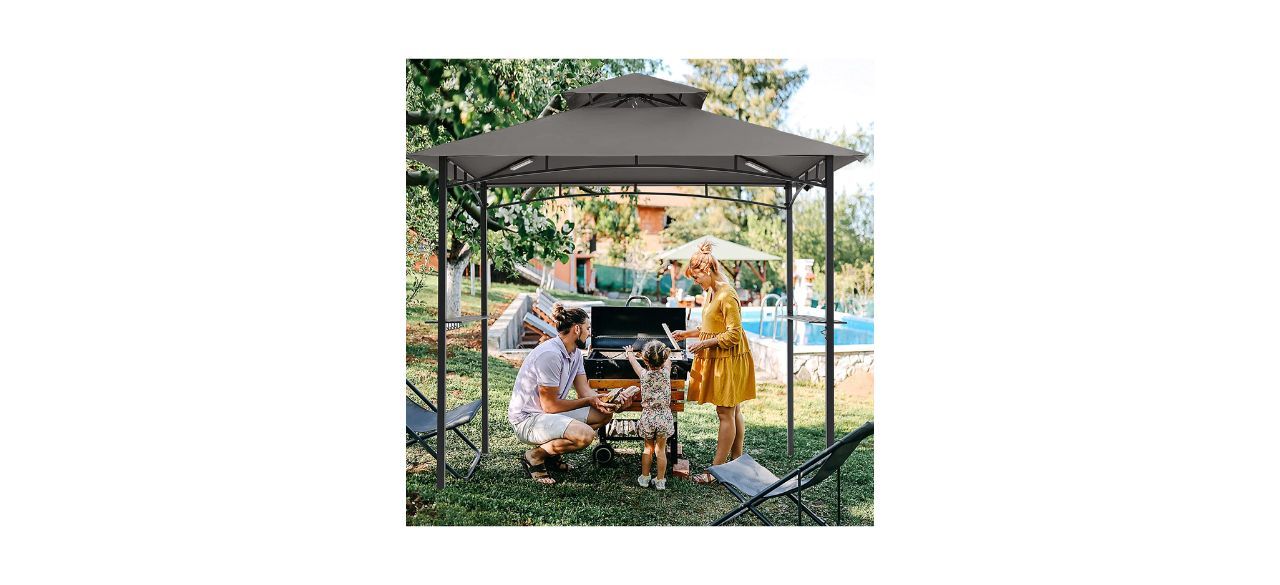 Cooshade Double-Tiered Grill Gazebo
The tiered roof design and open sides provide all the ventilation you need to stay as cool as possible while you grill. The battery-powered LED lights, two shelves, hooks for grill tools and bottle opener are all welcome additions.
Sold by Amazon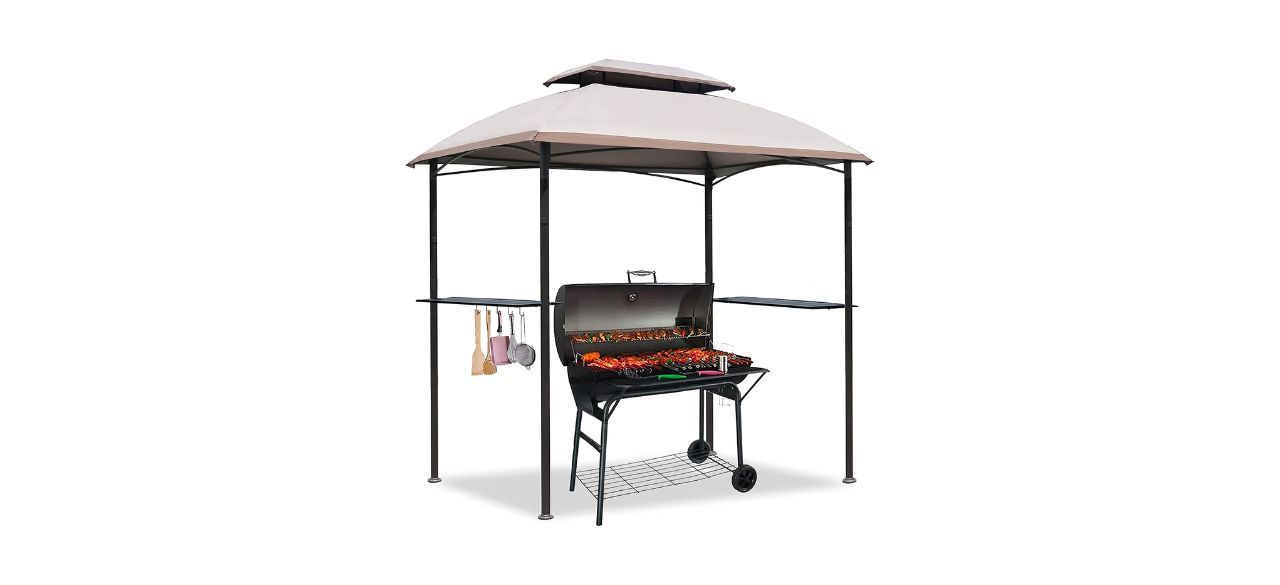 You have several versions of this gazebo to choose from: one with an arced roof and one with a straight-sided roof, both of which come in 8-foot by 5-foot and 9-foot by 6-foot options. All feature shelves, utensil hooks and a bottle opener.
Sold by Amazon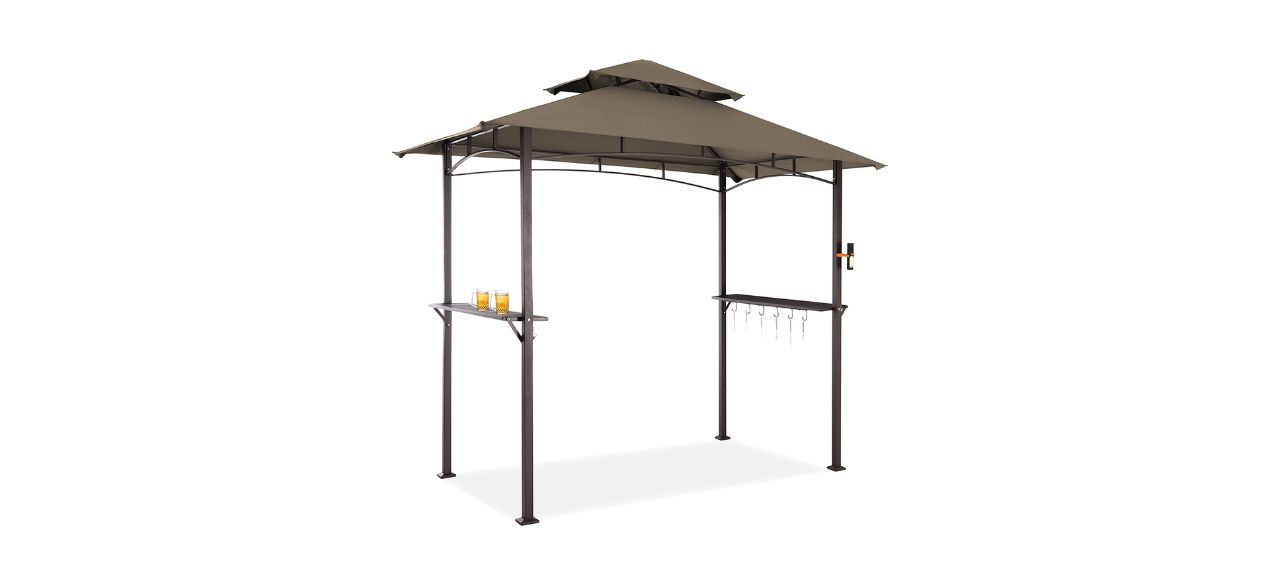 With two sturdy shelves, utensil hooks, a bottle opener and an LED light, this is a functional choice for grilling. The two-tier roof offers plenty of ventilation, while the frame is made from a durable yet lightweight powder-coated aluminum.
Sold by Amazon
Best grill gazebos over $180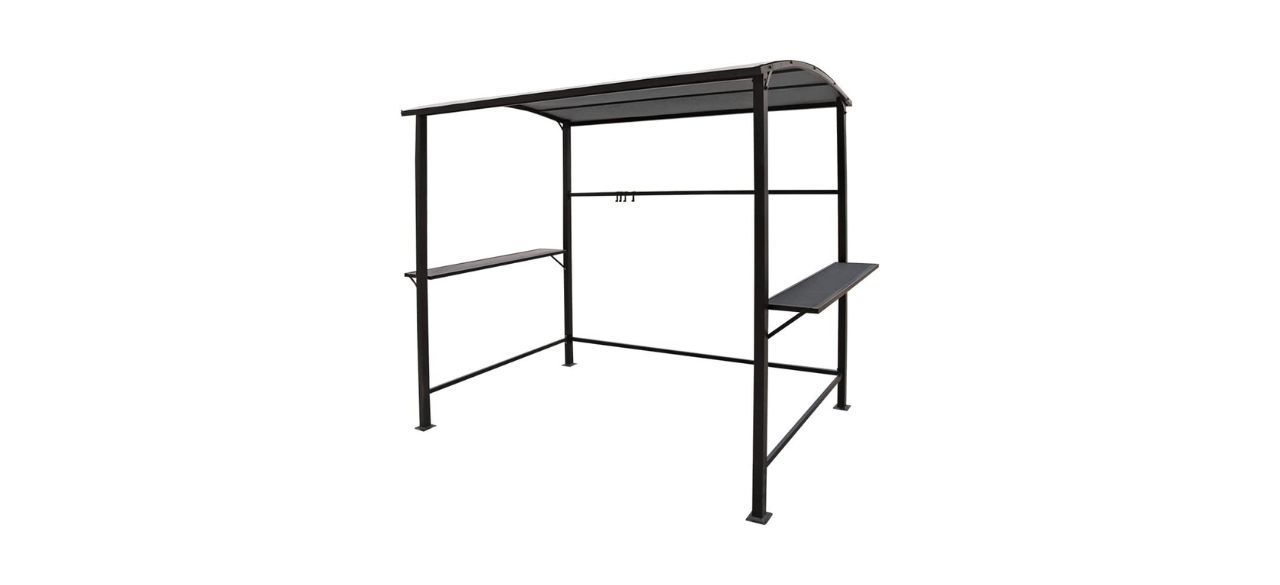 While its simple curved roof isn't ventilated, it's open at the sides so it doesn't trap heat as easily. The two large, durable shelves and the hooks for grill tools make it a handy space to cook in.
Sold by Amazon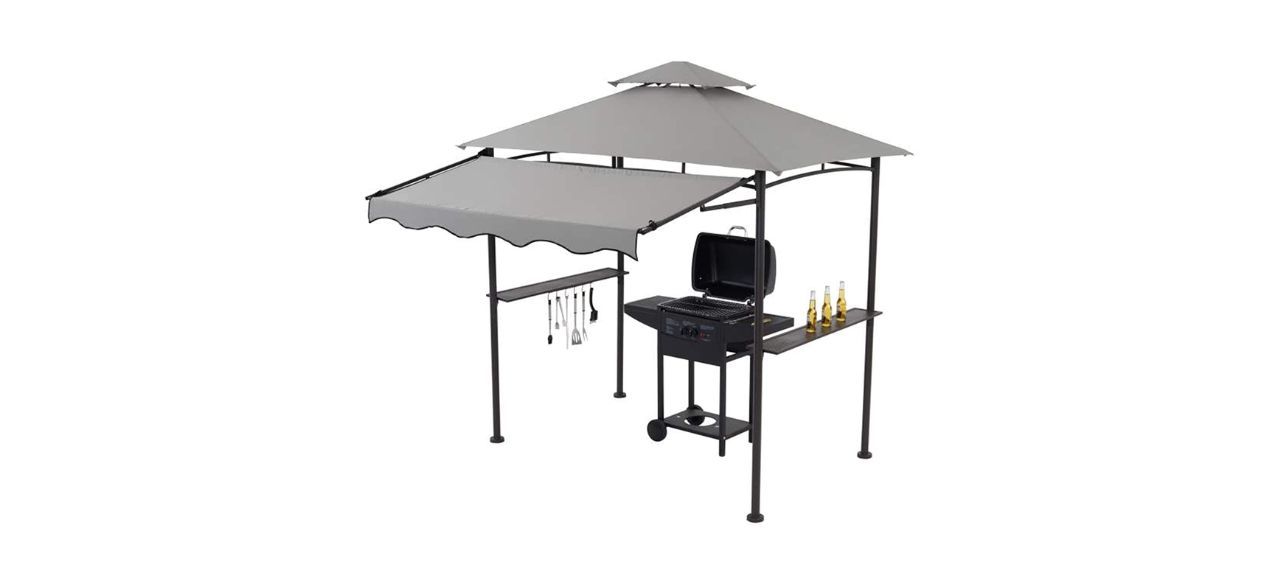 Charmeleon Double-Tiered Grill Gazebo
This smartly designed and well-ventilated gazebo features a fold-out awning to provide extra shade. The shelves and utensil hooks are functional additions, while the central hook in the roof is great for hanging a light from.
Sold by Amazon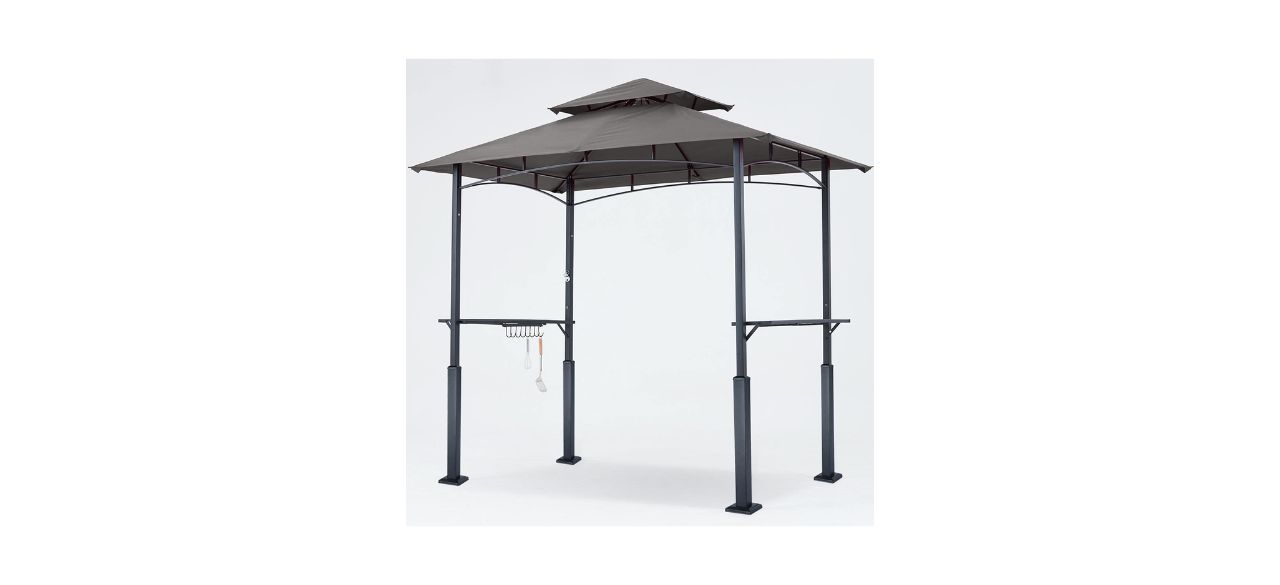 ABC Canopy Grill Gazebo Shelter
Made from a strong powder-coated steel alloy, this gazebo is durable and rust-resistant. It has all the practical features you'd hope for, including shelves, utensil hooks, a bottle opener and LED lights.
Sold by Amazon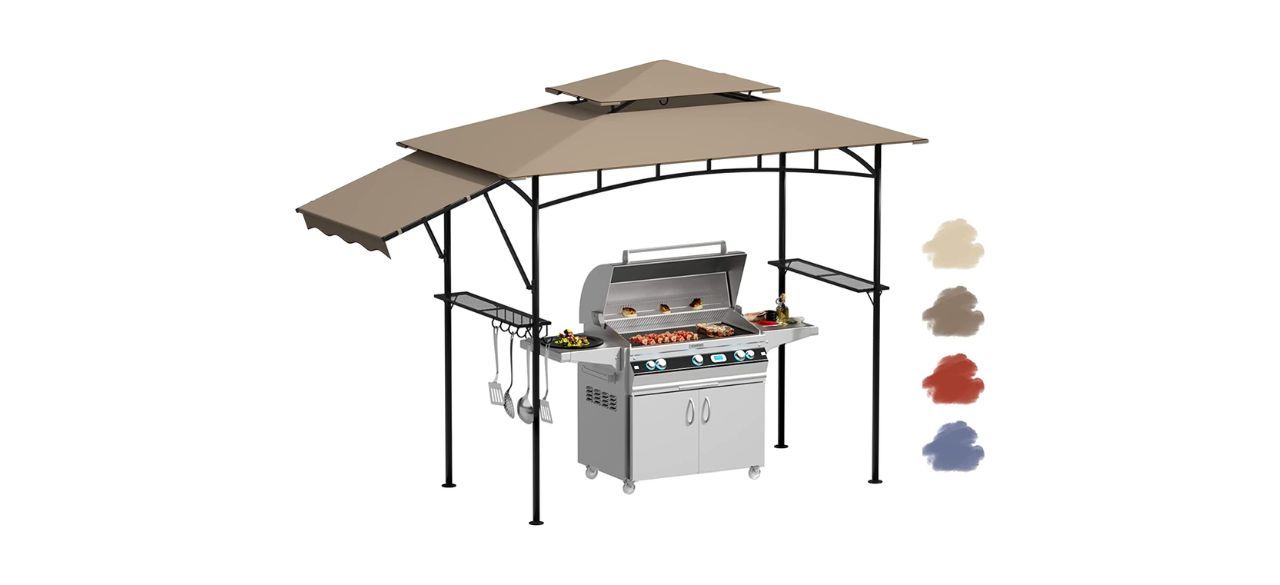 The main part of the gazebo measures 8 feet by 5 feet, but with the addition of the side awning, it extends to 11 feet by 5 feet. It has handy shelves and utensil hooks.
Sold by Amazon
Want to shop the best products at the best prices? Check out Daily Deals from BestReviews.
Sign up here to receive the BestReviews weekly newsletter for useful advice on new products and noteworthy deals.
Lauren Corona writes for BestReviews. BestReviews has helped millions of consumers simplify their purchasing decisions, saving them time and money.
Copyright 2023 BestReviews, a Nexstar company. All rights reserved.