This is an archived article and the information in the article may be outdated. Please look at the time stamp on the story to see when it was last updated.
Which space heater is better: electric or propane?
With winter approaching and the price of crude oil on the rise, you might be considering the most cost-effective method to heat your home. Although central heating offers the convenience of heating the entire house to the same temperature, it can produce exorbitant energy bills. A space heater can save money by heating only the rooms that you occupy most of the time.
Both electric and propane space heaters offer a portable solution for heating small spaces quickly, efficiently and safely. But which is better?
Electric heaters
The most common types of electric space heaters are:
Ceramic: Ceramic plates attached to metal coils heat up when electricity passes through the coils. The absorbed heat is released into the air and warms the surrounding space.
Fan: Electricity passes through a metal coil that heats the surrounding air. A fan blows warm air into the room.
Infrared: Electromagnetic waves are emitted into the air that heat nearby objects and warm the space.
Electric heater pros
Portability: Electric heaters are lightweight and can be moved from room to room.
Ventilation not required: No gases are produced.
Low fire risk: Ceramic heating elements in modern units help prevent fires that were common with older systems using metal elements.
Heats quickly: Most rooms can be heated to a comfortable temperature in 30 minutes.
No refilling tanks: You needn't refill and store propane tanks.
Wide selection: Many heater systems are available for various room sizes and heat requirements.
Electric heater cons
Energy consumption: Purchasing the right heater capacity for your space is required to keep electricity costs to a minimum.
Heat damage: Although ceramic space heaters have reduced fire risk, they can cause heat damage and are best placed away from valuable objects.
Electric space heaters vary in price from about $60-$300.
Top electric heater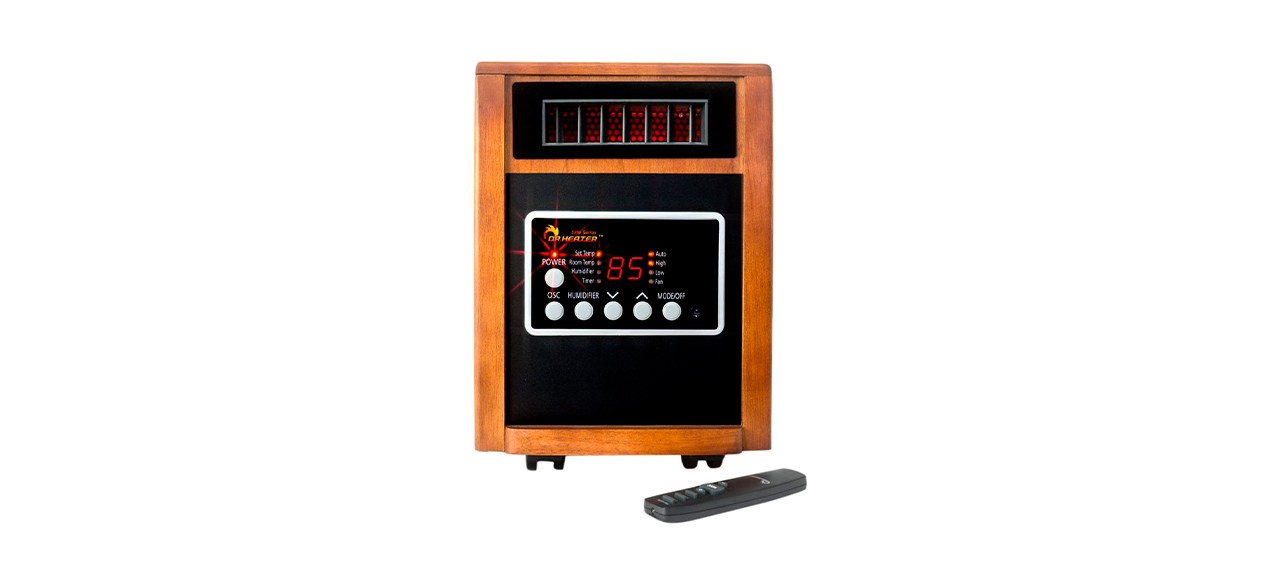 Dr. Infrared Portable Space Heater
What you need to know: This portable cabinet heater distributes warm air throughout a large room with an oscillating fan and a dual heating system that includes an infrared quartz tube and safe positive temperature coefficient ceramic heating discs.
What you'll love: In addition to an infrared heater, the system operates as a humidifier or just an oscillating fan. An electronic thermostat controls temperatures from 50 to 86 degrees, and provides a 12-hour shut-off and overheat protection.
What you should consider: The fan is noisy and most noticeable on the high setting.
Where to buy: Sold by Amazon and Home Depot
Top electric heater for the money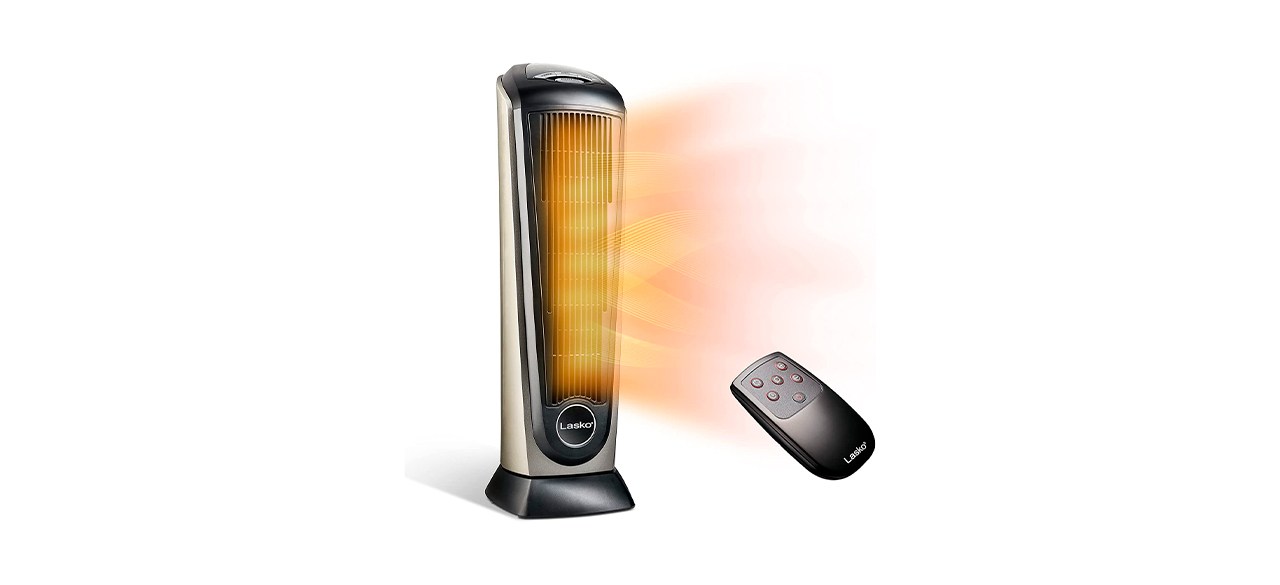 Lasko Oscillating Ceramic Tower Space Heater
What you need to know: This oscillating tower heater provides 1,500 watts of comforting heat via a self-regulating ceramic element over a wide area for rooms up to 300 square feet.
What you'll love: It features a programmable automatic electronic thermostat, two heat settings, three quiet settings, an eight-hour auto-off timer and an automatic overheat protection feature. The multifunction wireless remote control provides operation from any place in the room.
What you should consider: It can only be programmed to turn off and lacks a feature to set a turn-on time.
Where to buy: Sold by Amazon and Home Depot
Worth checking out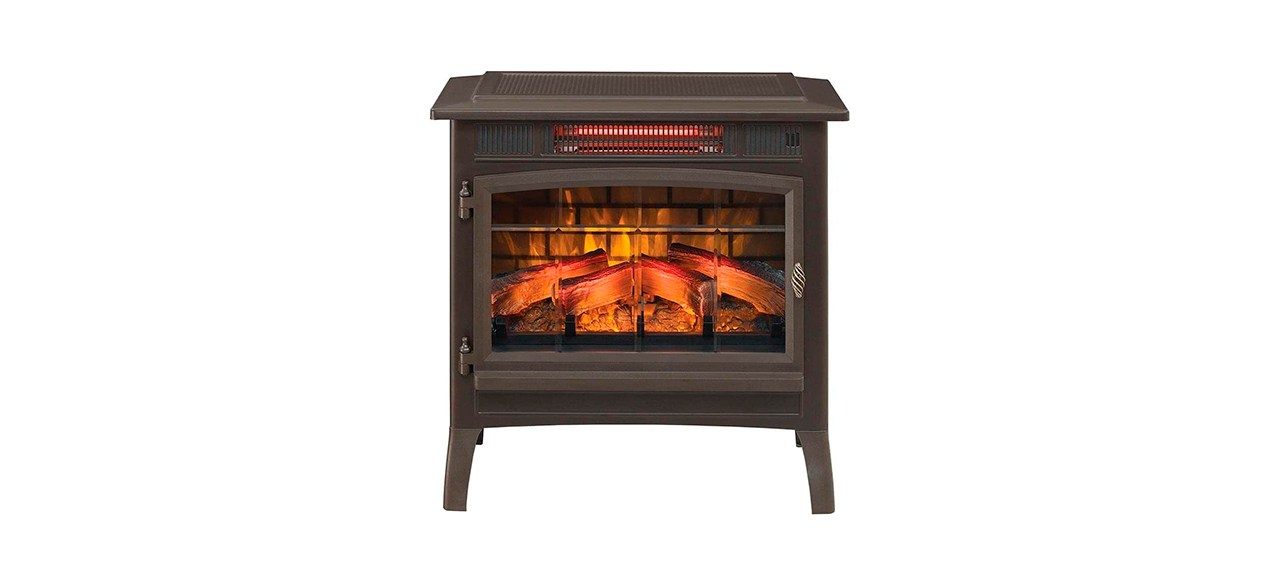 Duraflame 3D Infrared Electric Space Heater
What you need to know: The 5,200-Btu heater provides warmth for an area of up to 1,000 square feet while it displays a realistic flame with glowing logs and an ember bed controlled by five adjustable brightness and speed settings.
What you'll love: The infrared quartz heat and adjustable thermostat help maintain natural humidity and provide comfortable conditions without drying out the air. The heater has a durable metal body with side-view windows of beveled glass and an operable door.
What you should consider: The rod that creates the flame effects is visible inside one of the long horizontal logs, which distracts from the overall ambiance.
Where to buy: Sold by Amazon and Wayfair
Propane heaters
Propane space heaters are typically available in two configurations: direct vent or ventless.
Direct vent heaters use a high-temperature glass panel to separate the burning region from your room. Propane-burning fumes are vented outside and do not affect indoor air quality.
Ventless heaters draw in oxygen from the room and vent there, too. The fumes remain inside unless a window is opened, or another method is created for them to escape.
Propane heater pros
Portability: The heater is not constrained by a power cord.
Environment-friendly: Propane burns cleaner than natural gas.
More heat: Propane space heaters generate more heat than electric heaters.
Storage: Propane is easy to store indoors and lasts for decades.
Cost-effective: Propane is cheaper than most fuels. Propane heaters are typically about 20% cheaper to run than electric heaters.
Propane heater cons
Health risk: If not handled properly, a propane heater poses health hazards, including carbon monoxide inhalation in poorly ventilated rooms.
Flammable: Leaky propane-fueled heaters with faulty regulators or hose attachments in closed spaces can result in combustion.
Logistics: Propane tanks must be purchased or refilled, and then stored safely until connected to the heater.
Propane space heaters vary in price from about $100-$150.
Top propane heater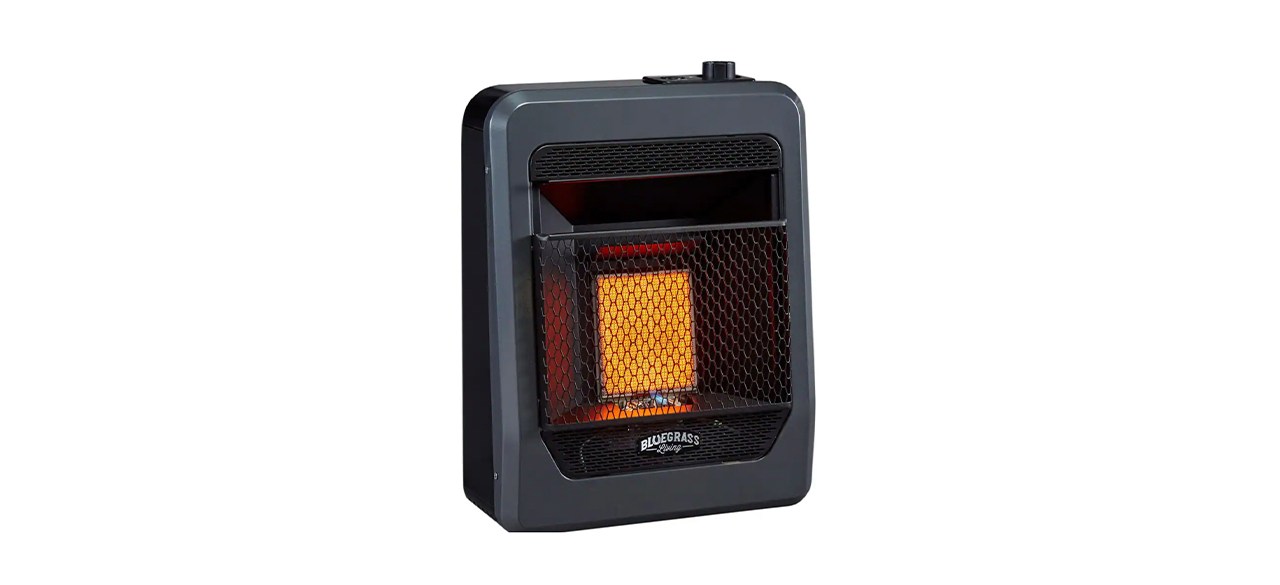 Bluegrass Living Propane Gas Space Heater
What you need to know: This 10,000-Btu heater with thermostat control generates enough heat to warm a 500-square-foot area, even on the coldest winter days.
What you'll love: The unvented gas burner operates at 99.9% efficiency without needing an outside duct. The system includes push-button ignition and a sensor that immediately turns off the heater if it senses carbon monoxide or lack of oxygen.
What you should consider: Some owners say the heater emits the smell of gas when the system shuts down.
Where to buy: Sold by Home Depot
Top propane heater for the money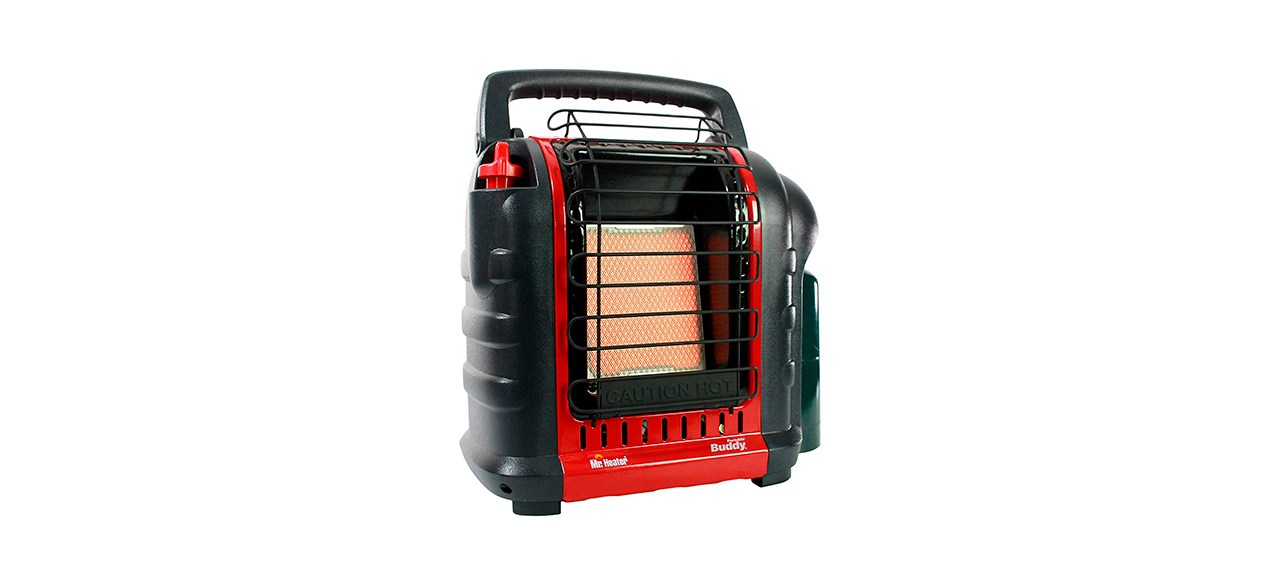 Portable Buddy 9,000-Btu Radiant Propane Space Heater
What you need to know: Approved for indoor and outdoor use, this 4,000- to 9,000-Btu radiant propane heater provides heat for spaces up to 225 square feet for up to five hours.
What you'll love: It runs off a one-pound cylinder but can connect to a 20-pound cylinder with an optional hose and filter. It has an automatic safety shut-off if the unit is tipped over, the pilot light goes out or it detects low oxygen levels.
What you should consider: The system lacks a built-in carbon monoxide alarm.
Where to buy: Sold by Home Depot
Worth checking out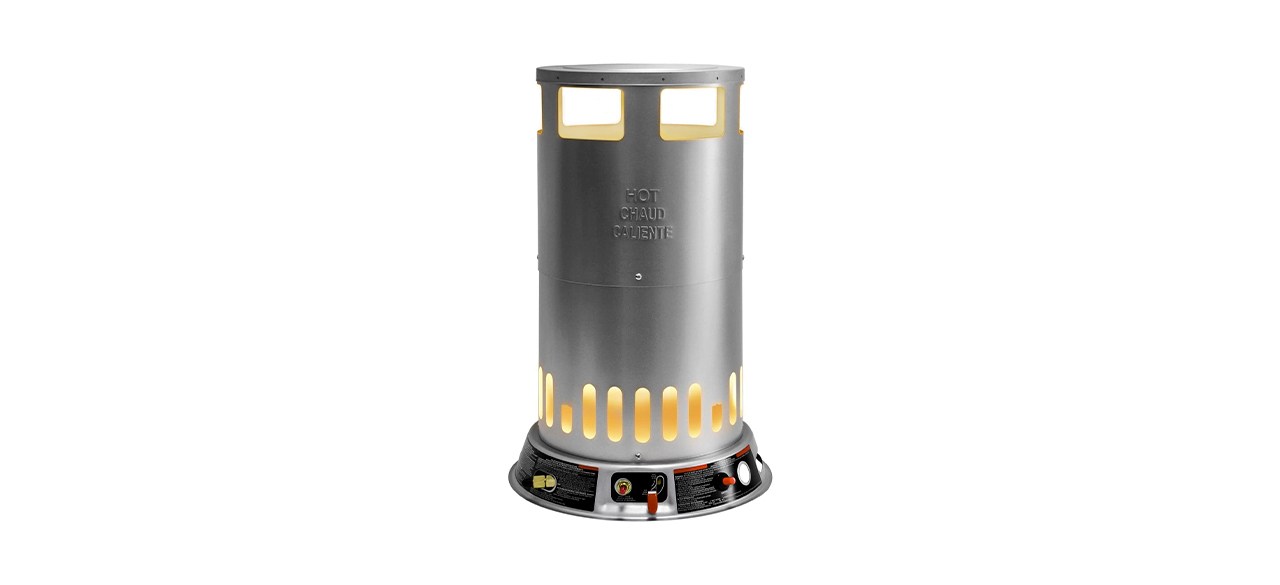 Dyna-Glo Propane Convection Heater
What you need to know: This is suitable for either outdoor or indoor use with proper ventilation, producing variable heat output at settings from 50,000 to 200,000 Btu for spaces up to 4,700 square feet.
What you'll love: The convection system provides three settings with 360-degree heating. It lights easily, has a large sturdy base that prevents tipping and includes an automatic safety shut-off, making it an excellent choice for portable heating.
What you should consider: It requires the use of a large-capacity propane tank to generate the full 200,000 Btu.
Where to buy: Sold by Amazon and Home Depot
Should you get an electric or propane heater?
Both electric and propane heaters can save on overall winter heating expenses by focusing on a small area of a home. Electric heaters are safer to run than propane heaters but typically cost more to operate. If safety is your primary concern, along with rising gas prices, the electric heater is the better option.
Want to shop the best products at the best prices? Check out Daily Deals from BestReviews.
Sign up here to receive the BestReviews weekly newsletter for useful advice on new products and noteworthy deals.
Jeff Harper writes for BestReviews. BestReviews has helped millions of consumers simplify their purchasing decisions, saving them time and money.
Copyright 2023 BestReviews, a Nexstar company. All rights reserved.