It's Senior Bowl week, which serves as the unofficial kickoff to draft season with the largest collection of draftable prospects in one place outside of the combine descending on Mobile, Ala. It really is a great few days down there, and to get you ready, so for my Six From Saturday, here are six (or seven, actually) guys I think you'll be hearing about …
1) Kenny McIntosh, RB, Georgia: This is a pretty strong year for tailbacks in general, and McIntosh—a sturdy, 6'1", 210-pounder—comes in with a chance to prove he can stand out after being deployed for four years in a deep Bulldogs platoon. McIntosh was the national champs' starter and leading rusher, and had 43 catches on top of that. That three-down value, and McIntosh's explosiveness, sets the senior up for a big week, one he could use to vault himself into the second round.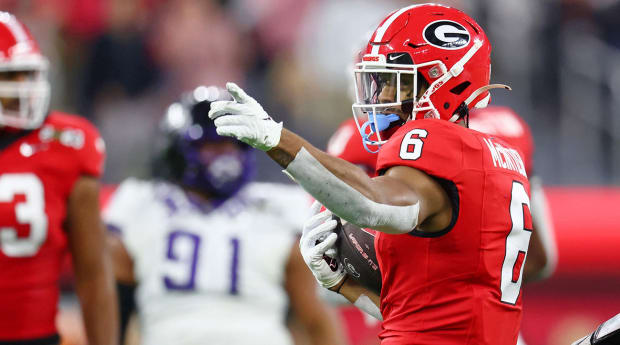 2) Luke Musgrave, TE, Oregon State: The nephew of longtime NFL assistant Bill Musgrave, Luke played only two games in the fall, with a knee injury costing him the rest of his senior year, and setting this week up as an enormous one for his draft stock. At 6'6" and 260 pounds, teams have been told he could run in the high 4.4s, and there's a feeling that he's got a shot to leapfrog Notre Dame's Michael Mayer as the top prospect at his position. He should be an exciting guy to follow the next few days.
3) Dawand Jones, OT, Ohio State and Darnell Wright, OT, Tennessee: These two could be jockeying to be the first right tackle taken. Jones, a former AAU basketball star, just about blocks out the sun—he's 6'8" with a staggering 89-inch wingspan—and, while he had ups and downs as a collegian, he promises to have better football ahead of him. And Wright, a former five-star prospect, had everything come together for him with a switch to the right side of the line this year, and a performance against Alabama's Will Anderson Jr. that earned him some money. Both of these guys will probably be top-50 picks, and with a big week it's not out of the question that one could sneak into Round 1.
4) Andre Carter II, DE, Army: Those putting Carter in the first round of mocks over the summer were being a little overzealous. But the West Point product should be a solid Day 2 pick, and will likely be the highest drafted cadet in 76 years, going all the way back to Heisman winner Glenn Davis being drafted No. 2 in 1947 (Tex Coulter went seventh and Hank Foldberg went 28th that year, as well). Carter is 6'6" and built like a small forward. He had 14.5 sacks as a junior, and was the focal point of every offense that played Army this year (leading to a dip in his numbers).
5) Julius Brents, CB, Kansas State: The Iowa transfer checks in at 6'4" and 202 pounds with a wingspan to match, which is going to intrigue a league that's increasingly looking for longer players on defense in general. He's also got a rep among teams for having really good movement skills, which he'll have a chance to prove out in Mobile. Right now, he's probably sitting in the fourth-round range, but a big week could lead to a pretty big jump.
6) Jake Haener, QB, Fresno State: This year, we've got four first-round types at quarterback (Bryce Young, C.J. Stroud, Will Levis, Anthony Richardson), a Day 2 prospect (Hendon Hooker) coming off an ACL tear, and then a glut of solid Day 3 guys with a shot to rise. A few of the last group will be in Mobile, and Haener's one to watch. He's got a shorter, athletic, Drew Brees–type of build with that sort of baller quality—he's gutsy, instinctive, competitive and oozes confidence. So he's one who definitely stands to catch the eye of scouts this week, and could sneak into Day 2 with a strong couple of months leading up to the draft.
And one last thing to finish off here: The Senior Bowl folks made an exception, and invited Hooker to come be part of the week, and go through interviews with teams, and all of that. Generally, the Senior Bowl has a rule that to be a part of the week, you have to practice and play in the game. But given what kind of prospect and kid Hooker is, that he's older (25), and the circumstance he's facing, they're letting him come. Which is good news, as I see it, all the way around.