The upsets continued when the men's NCAA tournament picked back up Thursday.
A few more top contenders saw their seasons end early and more could be on the ropes this evening when they take the floor with a trip to the Elite Eight on the line.
Check in on the madness, take a peek ahead to the NFL draft and then ready yourself for Opening Day.
In today's Winners Club you'll find:
Four More Elite Eight Spots Up for Grabs Friday
The first day of the Sweet 16 was a treat for college hoops fans.
No. 3 Kansas State took down No. 7 Michigan State in overtime, 98-93. The star of the show was guard Markquis Nowell, who dished a men's NCAA tournament-record 19 assists in the victory. No. 9 FAU kept on dancing with a 62-55 upset over No. 4 Tennessee. No. 3 Gonzaga once again knocked No. 2 UCLA out of March Madness with a dagger three-pointer in the game's final seconds and the Bulldogs won, 79-76. And No. 4 UConn rolled to an 88-65 win over No. 8 Arkansas, the only game without much back and forth in the second half.
Now, the Owls will play the Wildcats on Saturday in the East Region Final for a shot to advance to the Final Four and the Huskies will play the Bulldogs and the winner will represent the West Region in Houston.
Four more spots in the Elite Eight will be decided Friday. Find the full schedule, complete with spreads and tip off times, below.
6:30 p.m. ET (TBS): No. 5 San Diego State vs. No. 1 Alabama (-7.5) | Total: 137.5
7:15 p.m. ET (CBS): No. 5 Miami vs. No. 1 Houston (-7.5) | Total: 138
9 p.m. ET (TBS): No. 15 Princeton vs. No. 6 Creighton (-9.5) | Total: 140.5
9:45 p.m. ET (CBS): No. 3 Xavier vs. No. 2 Texas (-4.5) | Total: 149.5
I broke down the two games featuring the last remaining No. 1 seeds, SDSU-Alabama and Miami-Houston, and came up with a best bet for each matchup.
NFL Mock Draft 5.0: What will the Panthers do?
The first SI mock draft since the Panthers traded up with the Bears to land the No. 1 pick is out now.
Kevin Hanson has Ohio State quarterback C.J. Stroud coming off the board first overall, which is in line with what Carolina quarterbacks coach Josh McCown alluded to at the Buckeyes Pro Day.
The top of the draft is quarterback-heavy, as expected, and it's not until the 20th pick that there's a run on skill position players, such as Bijan Robinson, Jaxon Smith-Njigba and Quentin Johnson.
See how Hanson projects the first 31 picks will unfold in the first round April 27.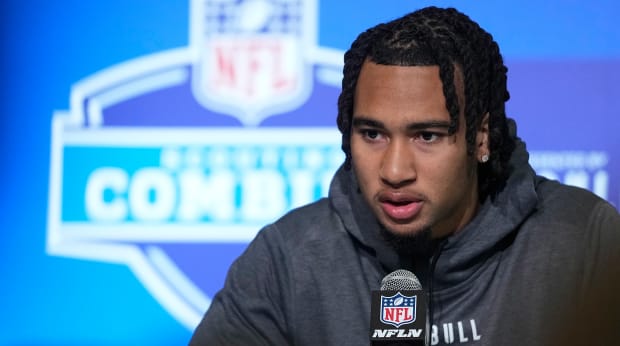 Players to Target in Your Fantasy Baseball Draft
Opening Day is now less than a week away and it's crunch time for fantasy baseball managers.
If you're in search of under-the-radar players, Jen Piacenti has you covered.
She singled out five post-hype sleepers who could be worth a swing. They may have have disappointed in the past, but at their current average draft position, they're all worth taking a flier on.
How about five breakouts? Piacenti shared three pitchers and two middle infielders who could be on the rise.
For a complete list of player rankings, SI Fantasy has you covered at every position. And catch up with all of Piacenti's fantasy baseball coverage here.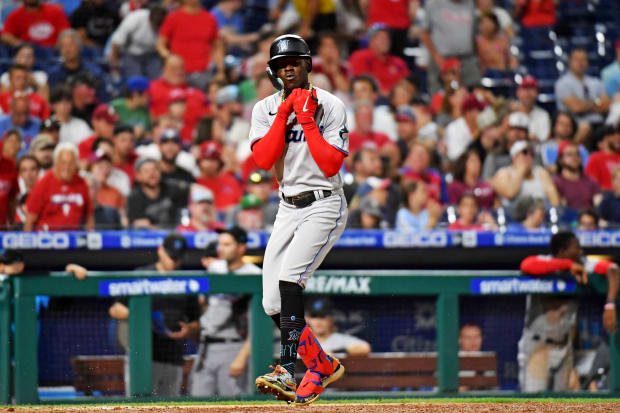 SI Betting has already broken down the markets for AL and NL MVP as well as AL and NL Cy Young. With the start of a new season nearly upon us, it's time to touch on the Rookie of the Year candidates in both leagues. Piacenti shared her insight on both.
In the American League, Gunnar Henderson of the Orioles (+250) is a strong favorite well ahead of the field. The preseason competition in the National League is much tighter with Corbin Carroll of the Diamondbacks and Jordan Walker of the Cardinals listed as co-favorites (+400).
In Other News
Joel Embiid Favored to Win First-Ever MVP: The 76ers big man recently jumped two-time defending MVP Nikola Jokić in the betting markets ahead of a marquee matchup between Philadelphia and Denver on Monday. See where the odds stand with a handful of games remaining.
Ranking the NFL's Best Skill Position Groups: Ja'Marr Chase, Tee Higgins, Tyler Boyd and Joe Mixon or Justin Jefferson, K.J. Osborn, T.J. Hockenson and Dalvin Cook? Find out how the league's 15 best groups of running backs, wide receivers and tight ends stack up.
Ezekiel Elliott Narrows List to Three Teams: After the seven-year veteran running back was released from the Cowboys, he reportedly narrowed his top options down to the Bengals, Jets and Eagles. Elliott is coming off the worst season of his career, in which he finished with just 876 rushing yards.
---
Thanks for reading Winners Club! When I'm back in your inbox next week, the Final Four will be decided. Enjoy your weekend. Talk soon.