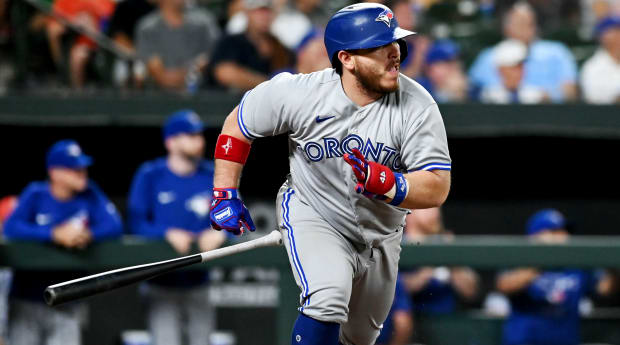 Last night, MLB Network concluded its annual Top 10 Right Now list of players at every position with its ranking of the best catchers in the league entering the 2023 season.
All of the positional lists are good starting points for fun baseball debates. Is Corbin Burnes really the best starting pitcher in the game? Are there really four third basemen who are better than Nolan Arenado? My quick answer to both of these prompts is no.
Let's take a look at the list of catchers because it offers an interesting window into the state of the position right now.
MLB Network's Top 10 Catchers:
1. J.T. Realmuto, Phillies
2. Will Smith, Dodgers
3. Adley Rutschman, Orioles
4. Sean Murphy, Braves
5. Willson Contreras, Cardinals
6. Alejandro Kirk, Blue Jays
7. Travis d'Arnaud, Braves
8. Salvador Perez, Royals
9. Danny Jansen, Blue Jays
10. Tyler Stephenson, Reds
Realmuto, Smith and Rutschman are far and away the best at the position. They do everything well and are the cornerstones of contending franchises. Yes, that includes the Orioles, who have the best collection of young talent in the sport and should make a postseason push this year, even if they ultimately fall short.
The next tier features three All-Star–level talents—Murphy, Contreras and Kirk—who excel at several components of the game but lack the upside of the top three guys.
There's a considerable drop-off after Kirk. Perez and d'Arnaud are viable veterans with good track records, but they have some clear weaknesses that could become more pronounced as they age.
Finally, there's Jansen and Stephenson, both of whom spent a lot of time on the injured list last season but played quite well when they were on the field. Of the final four catchers here, Stephenson is the one to keep an eye on this year. He's the youngest of the quartet with the highest offensive ceiling. If he stays healthy, he could shoot into the top five in time for next year's list.
But here's where things get really interesting: Two teams control 40% of the players on the list, with two of those catchers projected to be platoon players against lefties.
Atlanta's trade for Murphy in December came as a bit of a surprise because the team already had two All-Star catchers in 2022: d'Arnaud and William Contreras. There was a place in the lineup for both of them. Contreras, as a strong hitting catcher with defensive limitations, was a natural fit for DH. He could start behind the plate when d'Arnaud was hurt or needed a day off and still get regular at bats when he wasn't catching. In this way, Contreras was the catching equivalent of a super utility man. He could play most days, even if there was someone ahead of him on the depth chart.
Murphy's arrival relegates d'Arnaud into what I'll call the super backup catcher role. And while Murphy is a considerable upgrade over the d'Arnaud-Contreras tandem, d'Arnaud doesn't offer the same offensive upside at DH that Contreras did. That said, d'Arnaud is well suited to start mostly against lefties.
His platoon splits last season and in his career:
2022 vs. LHP — .341/.375/.571 (.946 OPS)
2022 vs. RHP — .246/.303/.443 (.746 OPS)
Career vs. LHP — .269/.334/.459 (.794 OPS)
Career vs. RHP — .247/.305/.417 (.722 OPS)
Meanwhile, the Blue Jays entered this offseason with three catchers capable of starting in the big leagues—Kirk, Jansen and Gabriel Moreno, who was their top prospect before they traded him to the Diamondbacks in December for Daulton Varsho, an outfielder who also has big league catching experience.
Kirk, 24, emerged as one of the best young players in the American League last season and should be the starting catcher in Toronto for many years to come. That pushes Jansen into that super backup gig. A right-handed hitter, Jansen is expected to platoon at DH against lefties, with the veteran Brandon Belt starting vs. righties. Interestingly, Jansen has been better in his career when facing righties than he is against lefties.
2022 vs. LHP — .226/.373/.453 (.826 OPS)
2022 vs. RHP — .272/.326/.537 (.863 OPS)
Career vs. LHP — .195/.298/.376 (.675 OPS)
Career vs. RHP — .235/.311/.444 (.755 OPS)
He was quite good against lefties last season, but that .826 OPS came in the small sample of 67 plate appearances. The thing is, Jansen has never carried the workload of a full-time player. His 72 games last season are the second most he's played in a year, behind his 107 games in 2019. His inclusion in the top 10 says much more about the lack of depth at the position than it does about Jansen's ability.
That lack of depth is crucial to understanding why these two teams have decided to keep the multiple top-10 catchers. Catching is a grind; injuries happen. Having a quality backup provides insurance in the event that the starter gets hurt. Plus, due to the positional scarcity right now, rostering two starting-caliber catchers means some teams don't have any. Actually, if Varsho were still a primary catcher, he would have a fairly good case to be on this top-10 list. So, you could say half of the 10 most talented catchers in the league, if you include Varsho, will be playing for one of two teams in 2023. That's wild
Have any questions or comments for our team? Send a note to mlb@si.com.
1. THE OPENER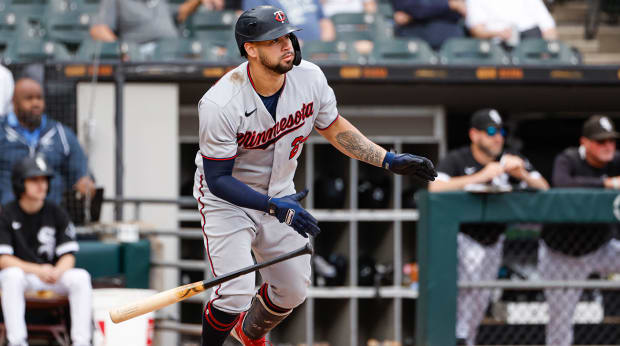 Speaking of catchers … this morning Stephanie Apstein and Emma Baccellieri each wrote about the player they believe to be the most interesting current free agent. Emma's answer was Gary Sánchez. That's not a spoiler, because the point of the column was to analyze what each of their selections have to offer and explain which team should sign them.
Emma makes a compelling case for why contenders should take a chance on El Gary. Stephanie chose a switch hitter who is coming off the best season of his career. You'll have to read the column to find out his name. Can't give it all away here!
The Most Intriguing MLB Free Agents Left (And Where They Should Sign) by Stephanie Apstein and Emma Baccellieri
2. ICYMI
Let's get you caught up on some of our other stories from the past week.
Ronnie Gajownik's Rapid Rise Is a Victory for Baseball by Tom Verducci
The new manager of the Hillsboro Hops, the High A affiliate for the Diamondbacks, is paving a path for women in the game.
Jazz Chisholm Jr. Is Ready to Change Baseball by Matt Martell
The new MLB The Show cover athlete is committed to making the game more dynamic.
Outfielder Dexter Fowler Announces Retirement by Patrick Andres
The former All-Star was the leadoff man and center fielder for the 2016 World Series–champion Cubs.
And if you missed last week's edition of this newsletter, you can check it out below:
Baseball Hall of Fame Voting Winners and Losers by Tom Verducci and Matt Martell
3. WORTH NOTING from Nick Selbe
This past week saw the release of several prominent publications' farm system rankings. And while prospect evaluations and scouting are far from exact sciences, there's one big takeaway at the top: The Orioles are brimming with young talent.
Baltimore ranks in the top three by most outlets, and is No. 1 in multiple spots. Gunnar Henderson is viewed by many as the top prospect in baseball after his brief yet impressive 34-game big-league debut in 2022, while other notable budding talents include righthander Grayson Rodriguez (the team's first-round pick in '18), shortstop Jackson Holliday (No. 1 pick in '22) and infielder Jordan Westburg (No. 30 in '20).
Such a distinction should be met with exaltation in Royal Farms establishments all across the city. And yet, with the Orioles, there's always reason to temper any enthusiasm. After flirting with a wild-card spot in what was a surprisingly successful 2022 campaign, the team has spent a combined $23 million on three major league free agents this winter—all on one-year deals—with Kyle Gibson representing the biggest investment. A trade for Cole Irvin should help, and Adam Frazier will be an improvement over Rougned Odor at second base. But in a loaded division and with a newly established face of the franchise in Adley Rutschman already looking like an All-Star, you'd expect to see more aggressive moves to build on the momentum from '22, particularly after a four-year stretch that saw three 100-loss campaigns.
With the Angelos family in the middle of a fierce ownership dispute, perhaps it's not surprising that more money hasn't been spent toward adding to the big-league roster. And maybe Mike Elias & Co. simply have faith in the talent already assembled to make a push to return to the playoffs. Prospect rankings are not gospel, but one thing is for sure: Help is on the way in Baltimore, and it can't arrive soon enough.
4. TRIVIA from Matt Martell
Previous Question: Who has won the most batting titles among active players?
Answer: Miguel Cabrera (4).
Question: Salvador Perez leads all active catchers with 223 home runs. Who ranks second?
5. THE CLOSER from Emma Baccellieri
Happy trails to Darren O'Day, who announced his retirement this week after 15 seasons in MLB. The submariner feels like a quintessential Guy to Remember: a reliever with a funky delivery who was good enough to stick around for a long, long time while never really being a star. In some ways, though, he's in a class all his own: He's the only reliever ever to pitch more than 600 innings with an ERA under 3.00 while never being a closer (25 career saves or fewer). Happy retirement!
That's all from us today. We'll be back in your inbox next week. In the meantime, share this newsletter with your friends and family, and tell them to sign up at SI.com/newsletters. If you have any questions or comments, shoot us an email at mlb@si.com.