Not the most exciting Sunday I can remember. But an NFL Sunday nonetheless, which means we have plenty to get to on the last Monday of September …
I still think the 49ers have been the league's best team over the season's first month, but one of their old assistants definitely made me question that idea Sunday afternoon. In fact, I feel like after how Mike McDaniel's Dolphins took the Broncos to the woodshed, it'd be ridiculous for me not to consider the idea that Miami could, in fact, be approaching that rarified air.
It's not just the team's 70–20 win over Denver, either. It's how the Dolphins outgunned the Chargers in the opener, and how they grinded out a win in Foxboro last week, and how this week's avalanche of yards and first downs and points was preceded by flashes to indicate an explosion might be coming.
But it still would've been bizarre to predict what we got Sunday, when Miami became the first NFL team to score 70 points in a game since November 1966—two months before the first Super Bowl. They broke team records for points, touchdowns, total yards, rushing yards, and second-half points. Their 70 points tied the 1950 Rams for the third-most in a game in NFL history. Their 726 yards were second, behind only a 735-yard effort from the 1951 Rams.
Just as wild—there wasn't a defensive or special-teams touchdown as part of it, and most of the team's 10 touchdowns were scored as a result of sustained drives, with those scoring possessions entailing 75, 81, 75, 86, 3, 90, 77, 7, 68 and 75 yards, respectively.
"I mean, we've always thought that the only people that can beat ourselves is us," Dolphins tailback Raheem Mostert said after getting home Sunday night.
And for the Dolphins, that actually isn't just a clichéd thing to say.
Mostert also told me that when looking back at last year, the guys on offense in Miami felt like one of the few things that did consistently slow them was a few more pre-snap penalties than the Dolphins should've gotten. So in the spring and in training camp, they drilled getting lined up properly fast, which would cut down on those flags, while also allowing for a team that motions more than any even more time to play that game.
It's probably a good reason why the whole operation looks as smooth as it does, and why the ball is out of Tua Tagovailoa's hand so quickly consistently—the tighter the operation, the more likely the play goes as planned from the jump.
That operation is rolling now, without question. Sunday's game was the first 350/350 game in NFL history (the Dolphins threw for 376 and ran for 350). Mostert scored four times, Tyreek Hill went for 157 yards and a touchdown, rookie dynamo De'Von Achane ran for 203 yards and two touchdowns, and, making all this even more mind-bending, Jaylen Waddle didn't even play against the Broncos. The Dolphins' final points came with 8:01 left.
That gave them a good crack at breaking the scoring record of 73 points, set by the 1940 Bears. McDaniel would later tell reporters he didn't go for the record because it wouldn't have happened in the natural flow of the game, and he felt like he'd bring bad karma on himself by running up the score.
And besides, by then, the point had long since been proven.
Afterwards, McDaniel addressed his players with this: "Call a spade a spade, that's a historic victory. O.K., and what I want you guys to understand and take from it is, it's about our standard and nothing else, O.K.? Offensively, we put up some historic numbers today, because you didn't give a f--- about the scoreboard. … We care about our standard. And our standard only."
That standard, on Sunday, just happened to be historically high.
We'll have more on that in The MMQB Lead later this morning.
---
Did I shortchange the Colts? Yes, I sure might have. I don't think many would've had Indianapolis by itself atop the AFC South going into October. But that's where Shane Steichen's group finds itself this morning, a game up on the Jaguars, Texans and Titans.
Maybe it'll last. Maybe it won't.
Just know that, regardless of that, the guys in that building believe they're a whole lot better than most of the NFL-viewing public thinks.
"I do," Steichen affirmed to me Sunday afternoon, as he and the team headed for the airport. "We've got good players on this team. Defensively, all the defensive leaders, the D-line we have and the linebackers. Quenton [Nelson] and Ryan Kelly, we've got a young nucleus of talent on offense. So, it's a good blend. We keep believing and keep fighting every week."
We probably all should've taken them a little more seriously (I'll raise my hand on this one) than we did before the season. After all, they did make the playoffs two times in the four years previous to last year's meltdown, and never got worse than 7–9, while posting a 37–28 record over that stretch. Last year, of course, was a different story altogether.
But what Steichen is implicitly saying—that guys like Nelson and Kelly didn't forget how to play football during the kind of season where everything that could go wrong did go wrong—is true, and that's become the basis for an early rebound that has the Colts leading their division, and just two wins short of last year's total.
Sunday's 22–19 win did work to stamp the progress too, in that it was over the Ravens, and in Baltimore, on a rainy day, and in overtime. And through all of it, Steichen proved, over and over again, how he had confidence in that roster of his.
First, it was with the kicker. Steichen and I went through veteran Matt Gay's five field goals, four of which were from 50-plus yards out (of 54, 53, 53 and 53 yards), and I asked in the cases of the four, if there was discussion over trying to convert those fourth downs rather than trying to make those long kicks.
Steichen's answers in the four cases: No, no, no and no.
"This guy's a legit kicker," Steichen said. "It was one of those games where it was like, Our D is playing good, let's take the points. And sure enough, [we made it]. If you [go for it and] don't get it and you miss out on three points it's like Oh, we should've kicked it there. There's always that What if? But if the defense is playing good and it's a low-scoring game, let's take the points. And that's what it was."
And Steichen's confidence extended from Gay to the defense, a confidence that paid off, most prominently in overtime.
After tailback Zack Moss was stoned on a fourth-and-1, the Colts needed to match the stop on a fourth-and-3 just four plays later from the Indy 47. On the play, Lamar Jackson saw linebacker E.J. Speed covering first-round receiver Zay Flowers, who was running a drag over the middle. As Jackson delivered the ball, Speed got a subtle hook around Flowers's waist, and did just enough to prevent the rookie from making a play.
"E.J. had a bunch of those," Steichen said. "We had a whole bunch of them. It was back and forth there in that overtime. It was crazy. But yeah it was a great job by the defense to do it all day. I don't remember exact numbers but it was just a great, great defensive effort by everybody."
Then, there was Gardner Minshew, filling in for Anthony Richardson. The Colts, to be sure, had to change some things without their first-round rookie—and that they managed to rush for 139 yards with the Richardson-specific pieces of the run game (and Jonathan Taylor) gone says something.
But none of that happens without having a steadying force like Minshew, who ran Steichen's offense in Philadelphia, too, in the face of those injuries.
"Yeah, I mean, every time he plays he goes out there and he plays really good football," Steichen said. "He's always prepared, he's an elite processor, he sees it well. And he finds ways to win games, and that's what he did today."
Meanwhile, what the Colts did wasn't a whole different than what they did the first two weeks of the season, or in the years previous to last year's mess.
So, again, maybe we shouldn't be surprised.
---
While we're in the AFC South, there's plenty to like about DeMeco Ryans's Texans. And I know, I know. I'm saying this after Ryans's first win as Houston's coach. So don't take this as a signal that I think the Texans are about to win 10 or 11 games.
Take it this way, instead—finally, I think there's light at the end of the tunnel in Houston.
Really, there are two things that had me feeling that way after the Texans stunned, and routed, the Jaguars, 37–17, in Jacksonville. The first is the obvious, and that's that the second pick in the draft, C.J. Stroud, has been dynamite—and we'll get to him in a minute. Second, for me, was just the overall look of a team that's playing way faster and more confident than it has of late, which are trademarks of the 49ers defense that Ryans coordinated.
"That's what it takes," Ryans said. "They continue to do that, continue to play fast, continue to clean up the details, we can have a really good team."
There was one point, in particular, where I thought you could see that, and the vision Ryans has for his program came into focus.
Late in the third quarter, the 17–0 lead that Houston carried into halftime had come down to 17–10, creating a critical spot for the Ryans's group while searching for its first win. On the kickoff following the Brandon McManus field goal that made it 17–10, up man/tight end Andrew Beck fielded the kickoff on the left side of the field, muffed it, picked it up, then took off for an 85-yard touchdown, something few Texans, if any, knew Beck was capable of.
ANDREW BECK WHAT 🤯 pic.twitter.com/myxIChnNsd

— Houston Texans (@HoustonTexans) September 24, 2023
"He surprised us all," Ryans said. "I look up and I see him coming toward us. How did he get the ball? He made a guy miss and went all the way. That was very cool to see."
Five plays after that, linebacker Blake Cashman picked off Trevor Lawrence, a turnover that led to a field goal and helped drop the curtain on the Jaguars' afternoon. Which effectively showed Ryans what he and his coaches have been preaching is getting through.
"What I love about today is nobody blinked, no matter what happened," Ryan said. "Whether it's good or bad, nobody blinked. Everybody just kept playing, kept playing together until the game was over. That's what you see when you've got a really good team. They're learning what it takes to win games, and it's everybody being dialed in for four quarters. That's what impressed me today about our entire team."
That, of course, includes Stroud, who has thrown for 906 yards, four touchdowns, zero interceptions and a 98.0 passer rating through three games, numbers that have really picked up over the last six quarters.
In that window, Stroud is 42-of-62 for 564 yards, three touchdowns and a 112.6 rating.
"For him, it's just been every week," Ryans said. "From Week 1, seeing the improvement, seeing how teams are trying to attack him, he studies his butt off. He studies more than anybody on the team. He's prepared as he goes into the game. He continues to improve. The things that he needed to correct, he corrected those things. He makes plays. It's just cool to see a young kid make improvements each and every week.
"It's just fun to watch, and it's what he did at Ohio State—how you just saw improvement from game one to the end of the season, continuing to see improvements. It's fun to watch someone grow right before your eyes and so quickly, growing from week to week. … To be a really good quarterback you have to continue to improve, and he has."
Stroud did have his splash plays in Jacksonville—hitting a 46-yarder to fellow rookie Tank Dell to key the Texans' first touchdown drive, then finding Dell again for a 68-yard touchdown in the fourth quarter—but what Ryans liked more was, against the pressure-happy Jaguars, the QB was hitting his hot reads against the blitz. Those, Ryans said, "are his special plays," where Stroud is doing smart things, and the right thing.
And once the Texans got more of that across the board? A Sunday like yesterday happened.
"It's very special to get that first win," Ryans said. "First two weeks didn't go how we wanted, so it was rough there for a little bit, trying to keep morale up, trying to keep guys into what we're doing, keep them working hard. But guys are bought in. They're buying into what I'm asking them to do. It's special to me to see the guys put the work in and then finally see the fruits of their labor."
The best part is, by the looks of it, there could be a lot more where that came from.
---
Six days after the Browns offense drove the team into a ditch in Pittsburgh, there were very real signs that Deshaun Watson was turning a corner against the Titans. And those signs wouldn't be noticeable unless you were in Cleveland's meetings last week.
Yes, the statistical jump was there. Watson's line for a 27–3 drubbing on Tennessee absolutely sparkled: 27-of-33 for 289 yards, two touchdowns and a 123.4 rating.
What got him there, though, wasn't as obvious.
And maybe that was best illustrated at the end of the second quarter, with a three-play sequence to start a possession that ended in a punt. On first down, Watson took an eight-yard sack that put the Browns in second-and-18. Watson then carried out a play-fake to Kareem Hunt, dropped back, patted the ball once, and checked it down to Hunt, who had settled underneath. Hunt chewed out nine yards. That put Cleveland in a more manageable third-and-9, which they converted with a screen to Hunt.
The Browns were up 20–3 at the time. The conversion kept the drive going, and that led to a punt at midfield, which allowed Cleveland to pin the Titans at their own 10 going into the fourth quarter. Which, ultimately, would lead to Cleveland's final touchdown drive.
And that little moment there illustrates what the Browns were trying to do with Watson last week—which was essentially telling him to do less, and get the ball out of his hands and into those of his playmakers after a couple weeks of doing too much big-play-hunting.
Cleveland told Watson they wanted him to be "completion-driven" against the Titans, and set a goal for him to hit 26 completions on the day. He, again, got to 27.
All of this is part of a larger effort to retrofit the offense for Watson after the fit into a more-traditional West Coast offense proved a little wonky in the quarterback's six starts last year. The Browns came into the year wanting to give Watson more plays out of the shotgun (where he's more comfortable), which gives him better vision, and also opens up the chance to at least threaten with his presence in the run game and allows the Browns an extra blocker on every run play.
It was always going to be a bit of work in progress early on. The hope is it's coming along now.
And if it does, added to a defense revitalized by Jim Schwartz, a defense that's only allowed one touchdown through three weeks, the Browns could soon be a pretty dangerous team.
---
That felt like a season-saving win for the Chargers. And what Brandon Staley liked most about it is that it was snatched, in a lot of ways, from the jaws of adversity.
Once up 21–10, the Chargers gave up long catch-and-runs to K.J. Osborn (from 36 yards out on a fourth-and-6) and Justin Jefferson (for 52, immediately following a Tuli Tuipulotu sack) to surrender the lead. They'd lost stars Derwin James and Mike Williams to injury. They were 0–2 coming in, and blew leads in both games.
So psychologically, on paper at least, it was not the best place to be.
But what Staley saw, mostly, was a square-jawed team.
"Number one, no one's ever going to believe we're not going to win as long as Justin's our quarterback," Staley told me. "We always feel like we're going to win every game as long as he's our quarterback. I thought he really kept us poised today. I thought they answered at the beginning of the fourth quarter."
That answer came in the form of a seven-play, 75-yard scoring drive to answer Jefferson's score, capped by a tip-drill, better-lucky-than-good touchdown catch from Josh Palmer.
"That drive was really big, just to score that touchdown," Staley continued. "What I liked defensively was, I felt like, no matter what was going on, we were good, because there was a lot of adversity in this, we had a lot of third downs taken away by penalties. We had a fumble that we forced that was taken away. There were three third-down penalties. There was a fumble that we definitely forced that we didn't get. There was a lot of adversity."
And the Chargers overcame it, on defense, with two plays to close out the Vikings.
The first was a Cousins throw on a fourth-and-goal to Jefferson that corner Michael Davis knocked away. The second came when linebacker Nick Niemann got his hand on a first-and-goal throw from the 6 with 12 seconds left, tipping it back to Kenneth Murray Jr. for the game-winning pick.
That left a single Justin Herbert kneeldown to finish off the Vikings—and perhaps change the complexion of the Chargers' season.
---
Give the Cardinals their credit. No one would argue that the roster doesn't have problems. Yet, in Week 1, Arizona controlled play and held a lead from the end of the second quarter into the fourth quarter. In Week 2, the Cardinals carried a 20–0 lead into halftime.
In my experience, that usually means you have a pretty locked-in group of guys.
ORR: Jonathan Gannon and the Cardinals Can No Longer Be Overlooked
So after Arizona finally scratched out a win, this one over the mighty Cowboys at home and by a convincing final count of 28–6, I wanted to ask Joshua Dobbs, the team's unlikely leader, about that, and whether the amount of doubters of the team (it's pretty much everybody) has played into the group's edge at all. I'd think, at the very least, there would probably be a few guys sick of hearing about the quarterback at USC. Maybe even Kyler Murray himself.
I thought I might get a snappy response about the haters. But as it turns out, the Cardinals don't even talk about them.
"We don't," Dobbs said, over the phone from State Farm Stadium. "I haven't even seen it. This profession, there's so many outside people that have their projections or opinions about each individual in this locker room's play, the coaching staff, the front office. There's always outside opinions thrown at you. As a team you just have to stay in the locker room, trust in each other, find your support system, but go out and play good football.
"That's all you can control. People are going to have their opinions. Everyone has them, but at the end of the day, we just have to go out, stay together as a team and keep playing good football."
It seems like a healthy approach, and whatever the team's leaders and Jonathan Gannon's staff have been doing certainly has worked too.
The problem then would be what's ahead for the Cardinals. Their next five games: 49ers, Bengals, Rams, Seahawks, Ravens. So how you measure progress from here might have to be a little more nuanced.
---
​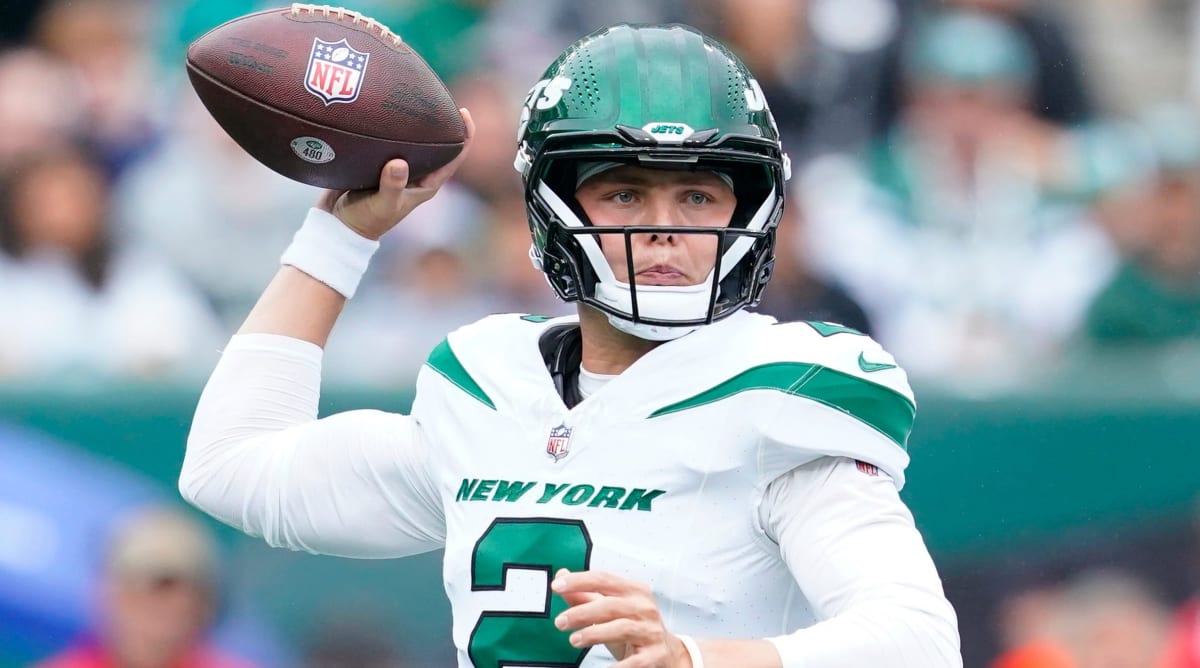 The Jets are in a really tough spot with Zach Wilson. The 2021 first-rounder was a mess again on Sunday, outside of one very nice possession in the fourth quarter—that one covered 84 yards over 13 plays. On that drive, he went 5-for-7 for 79 yards. The rest of the game, he was 13-for-29 for 78 yards, and the Jets scored a total of three points.
The final was Patriots 15–10, and yes, New England's defense is really good. But for another week, Wilson looked like a guy afraid to make a mistake, after his normal free-wheeling style got him benched last year and created tension with teammates. And I think part of the problem is that what the Jets would like to have at the position while Rodgers is out—a game-managing bus driver, who can simply get the ball to the team's myriad playmakers—isn't ever who Wilson's been.
In fact, when Wilson came out of BYU three years ago, one big criticism he drew from scouts was how he'd always look for the big play rather than the right play, and would oftentimes turn down easy throws underneath as a part of that.
What that's left the Jets with is a guy who's trying to give the offense what it needs, yet has looked really unnatural doing it.
Yet, Saleh stood behind Wilson after Sunday's ugliness.
"He's who gives us the best chance to win," he said. "That's basically the cleanest answer I can give you."
And sure, the Jets could benefit from benching Wilson now in favor of Tim Boyle or someone not on the roster. The problem, as I see it, is with all the water under the bridge between the team and the 24-year-old, if they sit him down again, there probably isn't any going back. Not this year, and probably not ever, particularly with how the locker room would receive that, and that's tough if you don't have a better answer on hand.
That's why it does behoove Saleh to give Wilson some runway. The problem? Well, if that runway's too long, then you could certainly lose the rest of the players because of it, with some of the frustration among offensive players resurfacing.
So, in the end, I think Wilson gets at least another start or two.
But this whole thing is pretty far past where it was a year ago.
---
​​Sneaky critical game on the Week 4 schedule: Broncos at Bears. Chicago, of course, just had the week to end all weeks, with the resignation of defensive coordinator Alan Williams, the Justin Fields "coaching" comment (which, in my opinion, got blown way out of proportion on social media), and burglary at the stadium all going down over the span of a couple days.
Then, the bears got completely run off the field at Arrowhead. The champs went up 34–0 at the half and led 41–0 midway through the third quarter before cruising to a 41–10 win.
That leaves the Bears at 0–3, and without a ton to build off of. Fields really struggled again, throwing for 99 yards and a garbage-time touchdown. The run game was just O.K. And the defense got ragdolled by Patrick Mahomes and the Kansas City offense.
"This is a new football team," Eberflus told reporters. "We got 30-some new guys that are coming together, that are playing the game together for the first time for three games. So it's a process to that. It's certainly not where we want to be, but to get there, we're going to have focus, we're going to have to have to fight, we're going to have to be resilient. We're going to have to block out outside noise.
"We're going to have to do all those things and keep a positive, optimistic attitude about it as a group. And if we do that, guess what? If you keep doing that, it will crack. It will crack. That's the biggest thing. That was my message to them in there."
There is some merit to what Eberflus is saying, by the way. On top of all the new faces, a ton of guys missed time in camp, a time that's usually used to build bonds and a rapport with new teammates. So that's had an effect as well.
Still, Fields should be making progress. The defense, based on what they spent, should be better. Thus far, they've been boatraced twice, and lost the other game by 10.
It's O.K. to expect more than that, and I know Eberflus will in the coming weeks.
Which brings us to Sean Payton and the Broncos. And honestly, it's hard to believe that in Week 3 of his new program in Denver, they'd be in this spot: 0-3, and coming off a 50-point loss. But that's where the Broncos are, and so they're gonna need a win at Soldier Field on Sunday just as badly as their hosts do.
Should be interesting to see what version of these teams show up.
---
Kenny Pickett was exactly who the Steelers need him to be on Sunday night. The second-year quarterback finished with 235 yards, two scores and a 108.5 passer rating on Sunday night in Las Vegas.
"He did the job tonight," said coach Mike Tomlin.
"I think we're on track to getting back," Pickett added. "There's never a perfect game. There are things we wished we had back, and that's always going to be the case, but I think we're definitely heading towards that stuff we need to have back."
The big one, to me at least, is how efficient the Steelers were.
Pickett got throws to five different receivers, and all five had multiple catches. He extended drives with his feet, too. He got George Pickens and Pat Freiermuth going. He only took one sack. And he did it, on this night, with a good-not-great run game.
So plenty to build on for a Steelers team that's plenty strong on the other side of the ball.
---
We got quick-hitting takeaways for you. Right here. Right now …
• Mac Jones isn't the issue in New England on offense. He's certainly not a superstar. But the team's biggest problem on that side, and the whole roster, continues to be its offensive line, with receiver probably second right now.
• Gutsy win for Jordan Love and the Packers—who scored 18 points in the game's final 17 minutes, and continue to pull all levers at the end of games. That, by the way, is really good for a young quarterback trying to learn and earn his way.
• Jameis Winston is worth his weight in gold for the Saints now. He can win games for New Orleans, and has a ton of background with his teammates and within the system.
• That said, good to hear that it looks like the Saints dodged a bullet on Derek Carr, and hope to have him back soon.
• Raiders coach Josh McDaniels's decision to kick a field goal down 23–15 from the Steelers 8-yard line will be scrutinized, for sure. And I think deciding to go for it there would be an acknowledgment that times have changed in the sport, with teams more likely to pick up an extra first down in today's game, and not give the ball back, which essentially happened to the Raiders (Jimmy Garoppolo got one more throw with 12 seconds left).
• After some early fits and starts, the Seahawks really put together a solid afternoon. So Seattle is who we thought they were! Namely, a team that'll make the playoffs and be frisky once they get there, with Geno Smith (296 yards, TD, INT) and a vintage version of the run game behind Kenneth Walker III and Zach Charbonnet.
• We've written a bunch about the economical approach that the Falcons, Commanders and Texans have taken at quarterback. I think it's at least intriguing, and maybe really smart. But this weekend, two of the three—Atlanta and Washington—couldn't get in the end zone, and those two are the ones that went with the young guys they drafted outside the first two rounds.
• I'll give the Ravens a mulligan this week, based on all their injuries. But they've got Cleveland and Pittsburgh up next, and the AFC North would qualify as a tough division to lose ground in.
• Congrats to Andy Reid on passing Tom Landry for fourth on the all-time wins list.
• After this weekend, I'd tell everyone to go visit South Bend for a Notre Dame game. What an awesome place, and awesome experience, with so many awesome people. Shout out to all them for making all of us, the enemies coming into town, feel so at home. (Winning didn't hurt either.)